Trans Groups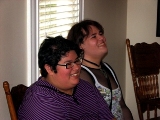 Dealing with transition – whether it is your own or someone else's – can be one of the most challenging events in one's life. Having the support of others who can share their own experience is indispensable.
Transgender Foundation of America provides direct support to the following groups so that they may better carry out their mission of being there for one another.
Below is a list of the support groups. For more information about starting a group or existing groups, call 713-520-8586. Group attendance is free; there are no dues or fees for group membership.
---
NOTE: As TFA makes the move to the new TG Center location, groups will be in a state of flux. Noted times and meeting locations may be inaccurate until the move is complete. Check the Calendar of Events for up-to-date meeting times.
If this is your first time attending, you are encouraged to check with the contact person before attending to make sure of any changes.
HTGA
HTGA was founded in 1990 and exists to provide a safe space for transgender individuals, allies, families, and significant others to meet and share experiences, strengths, and hopes.
Meetings: Mondays 7-9pm
Contact info: g.zemanek.1@gmail.com
Location
Grace Lutheran Church
2515 Waugh Dr, Houston, TX 77006

STAG
STAG was founded in 2000 and exists to provide resources, fellowship, and support to transmasculine identified persons on the FTM (female-to-male) spectrum, their significant others, friends families, and allies. Meetings: 2nd
Meetings:
Tuesday of the month 7-9pm (Game Night) & 4th
Saturday of the month 5-6pm
Contact Info: g.zemanek.1@gmail.com or Koomah@comcast.net
Location: 8119 Concho St., Houston, TX 77036

 SuPP
Significant Other Support Group (SuPP) is an open and inclusive peer counseling group providing a safe place to express concerns and feelings, focusing on the needs of those in the group. This group is available to non-trans-identified men and women who are 18 and over and in a romantic and/or significant relationship with a trans-identified person.
Meetings: 4th Saturday of the month 6-7pm
Contact info:
Kim.tucker@springbranchisd.com
Location: 8119 Concho St., Houston, TX 77036
Mission: To help each other get a grip, live authentically, and not lose it over the small stuff.
Positive 713
A support group meeting for people who are affected by HIV/AIDS, regardless of sexual orientation or preference.
2nd Tuesday of the month
6:00pm
Contact info: Chris: positive713@yahoo.com, 713-965-4483
TGTF
The City of Houston TransGender Task Force is charged by the City of Houston to ensure that transgender Houstonians are able to access the medical and social services in order to reduce the incidence of HIV within the transgender community
 Meetings: 3rd Wednesday of the month 7-9pm
TGHC
The TransGender History Committee is charged with the management, preservation and interpretation of the Transgender Foundation of America's transgender archive. Individuals interested in participating in this important effort can sign up at any of the meetings located at the TG Center in Houston, Texas.
Meetings: 3rd Thursday of the month 7-9pm
Friday Social
Description: The Friday night social is a once-a-month event held at the TG Center for the Houston area transgender community, supporters, family members, friends, community providers, and significant others.
Meeting times: 1st Friday of the month, March-October, 7-11pm
Dinner is $10, and it's free to hang out
Location: 8119 Concho St., Houston, TX 77036
For more information, contact g.zemanek.1@gmail.com
DBSA (depression bipolar support alliance)
Description: DBSA is a relatively new group that focuses on peer support of depression, bipolar and other mental health topics. Our group is different from others as we provide trans support, topics such as, mood swings from hormones and the stigma of mental health and being transgender. Anyone is welcome, every week we have trans and non-trans attendees.
Meeting times: Wednesdays, 6:00 pm – 7:30pm
Contact person: Sara Aguirre: s.aguirre@dbsahouston.org
1245 Heights Blvd, 77008 (Church Parlor)
The Houston Intersex Society
The Houston Intersex Society was formed to support individuals who were born intersex and to provide education and awareness of intersex topics by creating dialogue, offering support, uniting our intersex and trans communities, and fostering friendship through social events.
1st Tuesday of every month
7:30pm – 8:30pm
Email: thehoustonintersexsociety@gmail.com
Website: thehoustonintersexsociety.com
Facebook: facebook.com/houinter
Rebecca's Army
A trans/trans affirming motorcycle and scooter club. More…